Read Time:
3 Minute, 55 Second
Computer Tech Side Hustle
Are you good with computers?
Wanna earn some cash on the side?
A Computer Tech Side Hustle could be just the thing for you!
I find it funny because in my experience, once somebody (like a neighbor) knows that I "work with computers" for a living, then I get the frequent requests to:
Help me setup my printer.
Can you figure out my iPad?
My internet quit working!!
Please Note: This post may contain affiliate links. Please read my disclosure for more info.
Computer Tech Side Hustle Ideas
There are countless ways you can turn your knowledge of computers and high tech gadgets into a nice side hustle. Here are a few:
Neighborhood Geek: Hand out flyers on doors or mailboxes that advertise your price / services.
Mobile Geek: Setup a website, Facebook Page, or advertise on a local directory that you will drive to your customer's location.
Some service offering ideas for your Computer Tech Side Hustle are:
Setup new tablet
Configure new PCs
Connect new printers
Show how to use new phones
Help setup email
Assist in setting up social media
Walk-through setup of Skype or FaceTime so that people can stay connected with loved ones
I know a lot of you are thinking "who doesn't know how to do all of that?". Well, I can tell you that there is a whole generation of people out there that sort of got left behind in the recent tech boom.
Sure, my mom and dad both have smart phones and tablets these days, but probably not a day or week goes by that I don't get a random text message from my mom where half of it is complaining that "she doesn't know how to use this darn thing. I can't see the pictures. I can't hang-up".
It sounds trivial to us, but it is a real challenge to some to keep up with the latest and greatest gadgets. And by help this segment of the population, you would be doing the world a favor. You might even pair with local nursing homes or active senior centers to promote a class or set of classes to help out our seasoned citizens.
And to be honest, just not everyone in the world is great with computers. By now, most of us know how to do the basics, but some of the things that I mentioned above are either too hard for some or maybe they just don't have the interest to do it.
Either way, I see a great opportunity there to make a good side hustle become a reality. Think of yourself as a modern day handy man in a digital world!
Computer Tech Hustle Pro-Tip:
If you need to brush up on your tech skills, check out the Fiverr courses. Also check out Fiverr if you are wanting to outsource some of the work on your projects as you start to grow and take on bigger and better opportunities.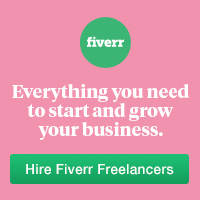 Get the word out about your Computer Tech Hustle!
Of course you need to advertise that you are the latest super hero to launch a Computer Tech side hustle, but you could start off small and just do your immediate neighborhood by printing up flyers or having a set of business cards made up. You can get 500 high quality business cards from VistaPrint for $20 with free shipping. If you can get even 10% of your business cards to generate leads, you are looking at possibly 50 customers to get started. Not bad right?
Another great thing about this side hustle is that there are already people doing it, so you can see what others charge, what kind of services they offer, and model your hustle after them.
There is nothing wrong with learning from your competitors. I look at it this way. There are almost 7 billion people in the world. There are opportunities for everyone!
A blog you say?
Another way to help you grow your Computer Tech side hustle is to start a blog. Blogs these days are really businesses in a box so to speak. With the power of WordPress, you can setup your services to be scheduled and paid for right from your blog.
Check out this post to learn how to setup your blog.
Check out this post to learn about different ways to monetize your blog.
What do you think of this idea? Yay or Nay? Leave me your thoughts in the comments below.
As always, don't forget to like and share our posts on Instragram, Facebook, and Twitter.
Hustle on!